Our Recruitment Training Courses
Our recruitment training courses are designed to help Consultants at all levels boost their confidence, win more business, build stronger relationships, manage outcomes purposefully, and stand out in a competitive field.

Our goal is to empower your Recruiters to move away from transactional interactions into valued partnerships, whereby they become like an extension of their clients' businesses and a powerful advocate for their candidates.
Our highly interactive recruitment training programs give practical insights into how Recruiters can:
Drive their output for high-performance
Keep themselves accountable
Use initiative rather than wait for results
Build resilience to keep going, both when the market is tough and when they're busy
Find innovative ways to problem-solve for their candidates and clients
Be influential to gain impactful results
Browse our Recruitment Training courses below: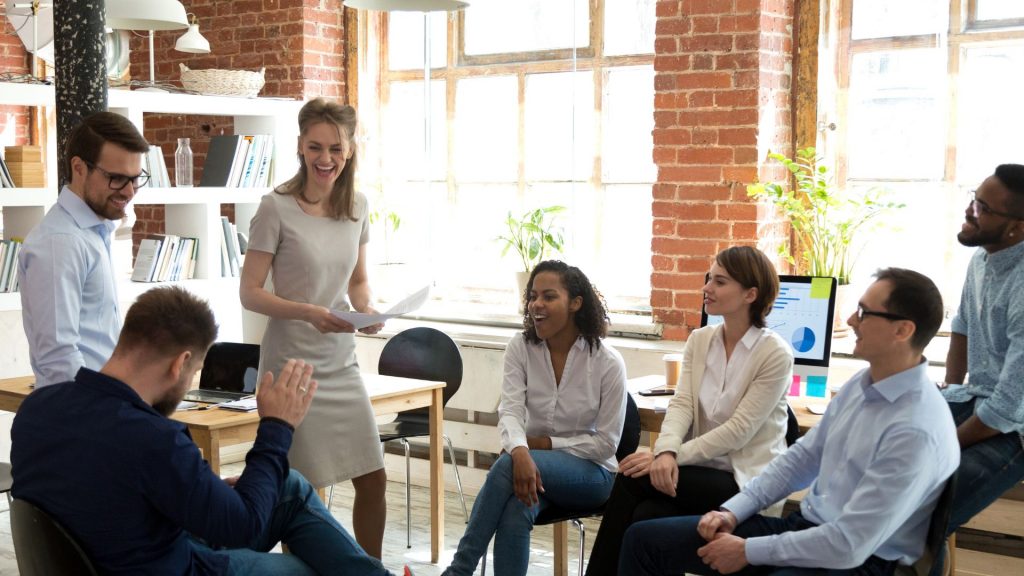 Customised Recruitment Workshops to Suit Your Unique Business Needs
Coaching for Performance
Objective: For Managers and Team Leaders to learn how to effectively coach and develop team members. This drives performance and helps motivate and retain employees.
Read More
Coaching is about empowering our staff to create a culture of performance.
Agenda:
Manager and Leader as Coach
How coaching can drive improved performance and results
The GROW coaching structure
Feedback, reviews and coaching
Practical coaching exercises and simulations
High Performing Teams
Objective: For recruitment teams to identify what high performance is to them and agree set of goals and a strategy to get there. Focus on improving performance and measuring success.
Read More
Agenda:
Defining High Performance – what do you want to achieve?
What is high performance to this team?
Why teams matter, why we work in teams
The role of culture and its impact on high performance
The team brand – how we are perceived
What this means to us as individuals
What this means to us as individuals
Where are we now? How can we move to the next stage?
Measuring progression from stage to stage
Incorporating the strategy
The importance of role clarity
Candid and constructive communication
Action planning and next steps
Giving and Receiving Feedback
Objective: Developing a culture of feedback is the ultimate gift to any team. A team who openly and regularly seeks out feedback from one another and from external…
Read More
sources enjoys greater performance, respect and deeper, more meaningful relationships that last. We explore the best way to give and receive feedback as well as set goals to help encourage the process.
Agenda:
Why feedback is important
The role of self awareness
Time and Self Management
Objective: Improving effectiveness and reducing stress associated with running a desk and managing other consultants. This recruitment training course can be run for new managers but is developed…
Read More
from another course designed for anyone looking to become more effective.
Agenda:
Developing a time management system
Resiliency Training
Objective: In this workshop we explore techniques to build resilience. We understand the "why" of what we do and how it helps us to stay the course when times are tough.
Read More
We explore the mindset required to develop hardiness and achieve our collective goals. This recruitment training course is suitable for anyone who faces challenges in their roles.
Agenda:
Begin with the end in mind
Developing a sense of purpose
Management Essentials
Objective: To provide the basic essentials required to manage and lead others. This course is specifically targeted at new and upcoming leaders. We focus on how we communicate, motivate and work as a team
Read More
Agenda:
Assertive Communication Techniques
Building a Robust Culture
Objective: In this workshop we explore what makes a good company culture, how to assess your existing company culture and explore ways to implement a robust, collaborative and inspiring company culture.
contact Us
read more
This course is suitable for anyone managing teams and small to medium sized business owners.
Agenda:
Assessing company culture
Defining ideal company culture
Implementing a positive culture
OUR RECRUITMENT TRAINING DIFFERENCE
Our Expert Recruitment Training Plan
PERSONAL SERVICE
We know that one size doesn't fit all so we're committed to understanding you, your team, your unique business and your training goals. Our personalised approach ensures our sessions meet the individual needs of the people attending, and we work with you to ensure that any training your people participate in creates an experience that leads to the meaningful, lasting change that they need.
DEPTH OF EXPERIENCE
The Elevate leadership team have 30+ years experience across sales, recruitment and mentoring. Our courses are jam-packed with wisdom and insights gained from real-world expertise; while theory supports the learning on offer, sessions are authentic, practical and filled with stories that illuminate both mistakes made (and how to avoid them) as well as proof that implementing these new capabilities will gain results.
FLEXIBILITY
We'll work with you to decide the best format to obtain maximum results for your team. We're able to lead one or two-day in-person sessions, 90-minute virtual trainings, one-offs, fortnightly facilitations; you name it, we're open to it! We understand that different groups have preferred methods, so we're flexible to work in the way that suits you best.
ONGOING SUPPORT
Any training is only as effective as the effort that goes into reflection and implementation. In fact, 70-80% of what is learned is forgotten within 48 hours if proper memory retention measures aren't in place. For this reason, we help your teams create individual plans to adjust out of old habits and into ah-ha moments, can offer one-to-one coaching based on development goals, and can host group coaching sessions to delve into experiences and challenges of implementing these new ideas, with the support and guidance of a skilled facilitator.
HOLISTIC APPROACH
We accommodate all industries for our recruitment training and adapt to suit the experience levels of the people in the room. Whether you have a group of entry-level Recruiters, a handful of highly experienced Seniors, or a combination of multiple skill levels, our training caters to all; everyone will leave taking away actionable insights for their role moving forward. We foster engagement across different learning styles, provide a highly interactive training experience where everyone is encouraged to get involved and keep the sessions upbeat and practical to retain high levels of engagement.
RELATIONSHIP BUILDING
We know that people learn best when they're having fun, feel like they're safe to share, are able to give things a go without fear of embarrassment, where it's ok to get things wrong, and where all ideas are valid. We make sure to build positive relationships with all attendees so that they feel heard, feel that their unique challenges are understood, and that the person facilitating the session cares about their growth. This inspires attendees to be open to participating actively, to try new ways without feeling threatened, and to support their fellow colleagues in the room.
WHAT OUR ATTENDEES SAY
Testimonials
The content was super informative, it was a good level of interactive and engaging and genuinely very interesting to learn new techniques and skills to apply to my recruitment career. I look forward to applying the skills I've learnt into my every day at work and seeing how I can progress
Exceptional… Thoroughly enjoyed the training. There was a lot of valuable points that I will take with me throughout my career in recruitment. Very engaging and interactive content.
It was such an amazing learning session full of insightful information, fun, excitement keeping us alert and active throughout. Overall very helpful session with great takeaways.
The training courses were well-structured and informative. Being interactive made it easier for me to effectively process and store all the information.
The training was outstanding, informative & absolutely what I needed & hoped for… The only thing better was the trainer … She was so lovely, warm, welcoming & made it a fun, engaging & positive experience… Thank you so much Elevate .. I hope to work alongside you in the future…. HIGHLY RECOMMEND!!!!!
Vanessa and Caroline are an absolute dream team when it comes to Recruitment training. Their approach was interactive, engaging and not only was the content interesting, their commitment to having us absorb as much of the training as possible, was outstanding. It's refreshing to see how they have adapted the course to cater to our environment, using modern examples and keeping it relevant to the work we do and the market around us. I am excited to grow my career and, most importantly, I am looking forward to the continued training they provide!
The trainers are absolutely amazing. Very engaging and all have a tonne of knowledge even for someone that has been in recruitment a while and has done a number of these trainings. Highly recommended
Great interactive training. Material was educational whilst been fun and engaging. Our trainer had a wealth of experience within the industry. This made training really relatable as she is so warm & knowledgeable. I would highly recommend Evolve to set up new or existing Consultants for success.
The trainers made sure everyone was made to feel comfortable and the attitude of being afraid to be wrong didn't exist in the room from the very first day. I've been working in recruitment for over 4 years and it's the best tailored training I've ever had.
I recently completed the Evolve program with Caroline and Vanessa and it was a great experience. I felt that they were actively listening to all our questions and I got the opportunity to talk and actively participate. The program provided me with all the tools and support that I needed to enable me to flourish in my recruitment career. I also felt that they were open to hearing different opinions and discussing points of view. I would highly recommend this program to anyone who is looking for a dynamic career where they're truly rewarded for their effort and energy.
Really great course jam packed full of tangible knowledge taught with the participant in mind – not your usual boring class where you're bombarded with info
FAQs About Recruitment Training
What is Recruitment Training?
At Elevate we believe each consultant's desk is like its own business. They have their own clients and they have their own product (their candidates). The success of that business is completely dependent on the effectiveness of the person running that business. At Elevate we believe in creating 'career consultants': Individuals driven to be the 'go to' person in their industry for both candidates and clients alike.
Why is Recruitment Training important?
Motivating and retaining staff can be difficult in any industry. The more you are able to invest in the development of your people the more return you will see and the more likely they are to feel fulfilled in their roles.
Does Recruitment Training work?
Absolutely. We have worked with many recruitment companies and in every case have received incredible stories of success from techniques and behaviors we have implemented.
Who should undertake the training?
We have courses targeted at resourcers, recruitment consultants and recruitment managers. We recommend all levels be developed where possible.
Can the training be tailored for different recruitment companies?
All of our training is tailored to the needs of each business because no two companies have the same needs. Nothing off the shelf!
Can the training be tailored for different recruitment companies?
All of our training is tailored to the needs of each business because no two companies have the same needs. Nothing off the shelf!
What key learning will recruiters come away with?
Building relationships is key. Our focus is on helping consultants find their niche, become famous in that niche and grow a desk that becomes extremely profitable for themselves and the business. We train an array of techniques and behaviors to achieve this outcome.
What does an ROI look like after Recruitment Training?
We see dramatic improvements in new client numbers, job placements made, PSAs signed and reductions in staff turnover as a result of our recruitment training programs.
Want to know more about how Elevate can help your team improve performance, create better outcomes and find more fulfilment in their roles?